15/03/2016 at 16:46 pm
Milk shake Smoothies Conditioning Semi Permanent Color is a delicate and treating color without ammonia that leaves the hair shiny and rich in pigments. It is ideal to lighten a natural base, to give intense highlights, to hide the first grey hair, to make the existing coloring uniform, or to refresh it. It's conditioning base with milk proteinsintegrate and condition the hair structure, honey and beeswax have a treating action and increase hair shine and manageability while fruit extracts soothes andconditions the scalp and hair. Integrity 41®, a patented antioxidant complex guarantees a longer-lasting color. This color has a pleasant fruit, milk and honey fragrance.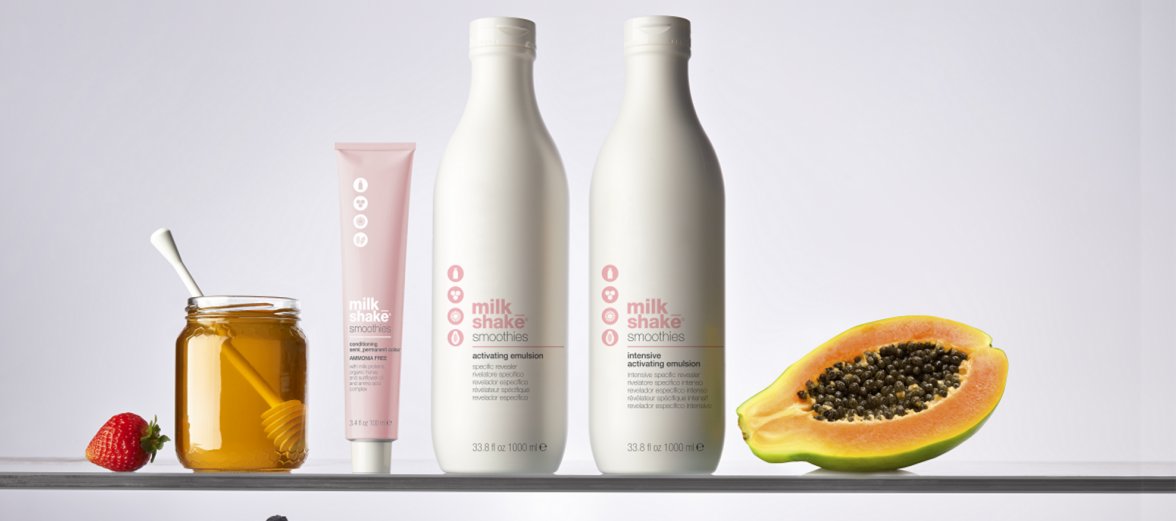 Tone on tone coloring conditioning cream with milk proteins, organic honey and sunflower oil, amino acid complex & fruit extracts. milk_shake smoothies, the maximum condition and expression of color. A soft and moisturizing semi_permanent color with vibrant pigments that give an incredible shine. milk_shake® smoothies color contains milk proteins, organic honey and sunflower oil, amino acid complex, and fruit extracts that give condition and softness to hair and scalp.milk_shake smoothies has a pleasant fragrance and leaves hair healthy, shiny and conditioned with vibrant color.
milk_shake smoothies, gives perfect versatility to professional color services whilst respecting the hair's health and integrity. It's ideal for shiny, natural and durable grey blending. It gives gloss and shine to natural bases, gives tone to color contrasts or highlights, gives uniform color, and offers an easy coloring service without too much commitment. Only to be used in combination with the specific activator milk_shakeactivating emulsion for tone on tone coloring and masking of first greys, (up to 50%), or milk_shake intensive activating emulsion for a more intense coverage of greys (up to 75%) and for more intense shading.